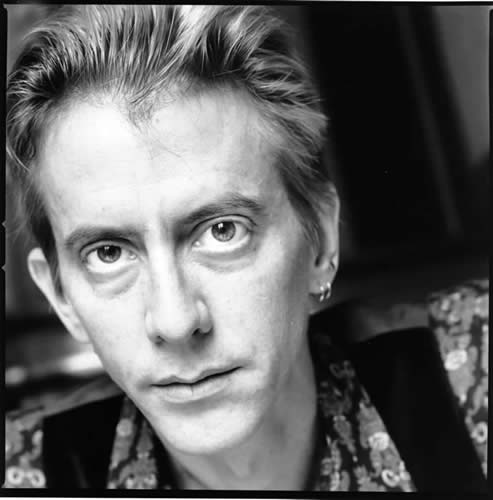 Theo Hakola was born and raised in Spokane, Washington. His blood is Finnish and Swedish. His local heroes: Chief Joseph, Maury Wills and Jimi Hendrix. His position: shortstop. In 1973, Hakola left Spokane in the pursuit of life, liberty and happiness that took him from Ohio to New York City, and from Guatemala to London and Spain before finally depositing him in Paris in 1978. He didn't exactly find happiness, but he was once employed full time by the U.S. Committee for a Democratic Spain (1975); by the New York City club Tramps where he did sound, lights and booking (1977-78); by Radio France, Radio Monte-Carlo, Radio Cité 96 and Radio Nova in Paris as DJ/programmer/producer; by various restaurants as waiter; by assorted language schools as teacher, and by Antioch College in Ohio (where he also studied) to give a course on the Spanish Civil War.
There was a year at the London School of Economics and Political Science in there, along with various articles and photos on European politics and culture in American and French publications, not to mention numerous translations and a time as assembly line worker making doll's eyes in Barcelona…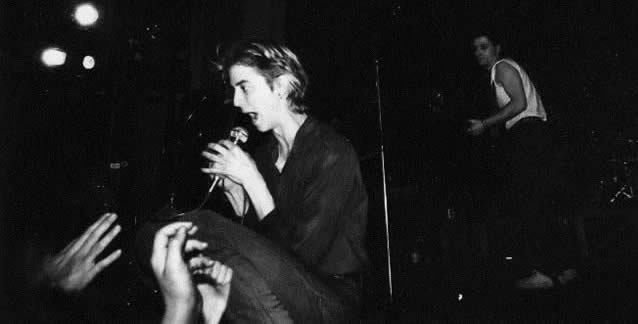 …There was also Orchestre Rouge. Founded by Hakola in Paris in 1980, the band played extensively in Europe and made two albums with RCA-France – the first produced by Martin Hannett at Strawberry Studios in Manchester – before breaking up in 1983.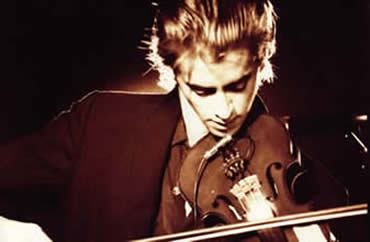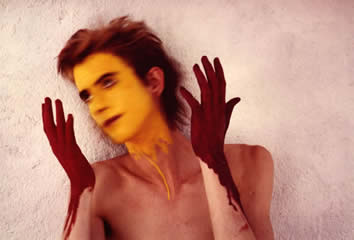 In the fall of that year, Hakola was given the role of Alaskawolf Joe in Hans Brecht/Weill's "Mahagonny" directed by Hans Peter Cloos in Paris (Les Bouffes du nord), Lille and St. Etienne.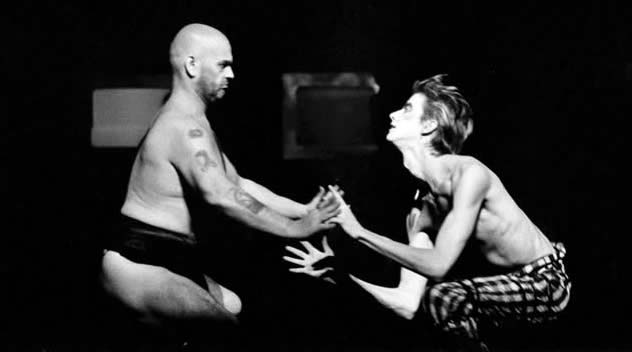 And then there was Passion Fodder…
"Anarcho-country. Beret-sporting cowboy Bolsheviks bashing the life out of an electric guitar – sheer sumptuous bedlam… Surrounded by four equally volatile fellow-musicians, all Parisians, Theo has turned the edgy, quivering, deliciously articulate Passion Fodder into a crisp and colorful vehicle for his own billowing indignation." (Sounds 8-13-88)
PASSION FODDER, 1990 – Hakola, Bénédicte Villain, Pascal Humbert, Jean-Yves Tola, Lionel Dollet
Formed in 1985 when Hakola signed to Barclay/Polygram in France and when music had begun having more to do with video clips and haircuts than songs, Passion Fodder recorded five albums of the little gems in six years. International distribution by Beggars Banquet helped get the music out to the rest of the world and enabled the band to tour America in 1988 after U.S. release (Island Records) of "Fat Tuesday," their second L.P. "Hakola's vision is painfully raw, twisted and compulsive. Throughout the album he's railing against life's ugliness and monotony in the manner of the 19th Century poet tripped out on opium. The songs burn with the urgency of the afflicted and it's impossible to put aside an image of him singing up from the gutter; Baudelaire with an electric guitar." (New Musical Express 8-1-87)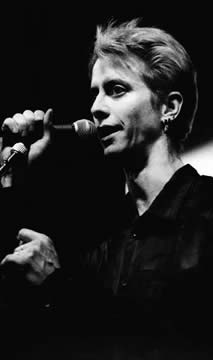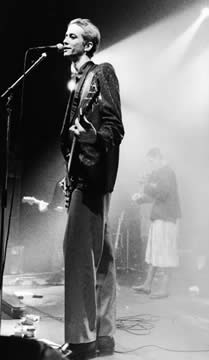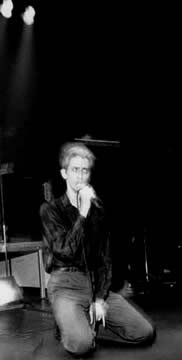 In 1987, Hakola produced the first album by Noir Désir –"Où veux-tu que je r'garde ?" – after having convinced Barclay-Polygram to sign this combo from Bordeaux whose impact on the French music scene would shortly assume Nirvanaesque proportions.
He would later produce albums by Les Hurleurs, EV, Les Malpolis and Gecko Palace. In 1988, he wrote and performed, with Passion Fodder, the sound-track for "Peaux de vaches," a film by Patricia Mazuy starring Sandrine Bonnaire.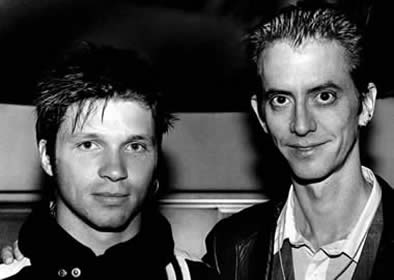 In 1989, Passion Fodder moved to Los Angeles where they recorded their fourth and fifth albums – "Woke Up This Morning…" and "What Fresh Hell Is This?" before finally calling it a day in 1991.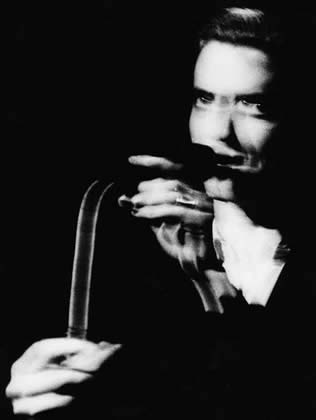 Hakola's first solo album – Hunger of a Thin Man (1994) – featured guests Michelle Shocked and Claire Diterzi along with Noir Désir's Bertrand Cantat and Serge Teyssot-Gay. Following the release in 1995 of his second album, The Confession, Hakola moved back to France where he performed a remarkable series of concerts taking him from small venues to major festivals like Les Eurockéennes in Belfort. Amongst those seduced: Nick Cave and The Bad Seeds who invited Hakola to open for them on their European tour, and Hakola's third album – Overflow (1997) – featured The Bad Seeds' incomparable Thomas Wydler on drums.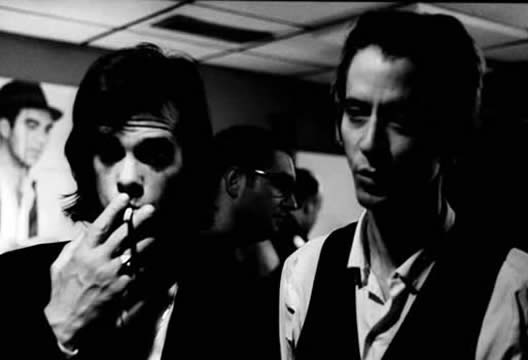 In 1999-2000 Hakola directed and performed, along with eight other actors and musicians, his play "La Chanson du Zorro andalou" in Rennes, Lille and Paris. The music of the play – featuring the voices of Hakola, Jeanne Balibar and Marie Payen as well as the saxophone of Akosh and the drums of Thomas Wydler – was released in France as a CD package including the text.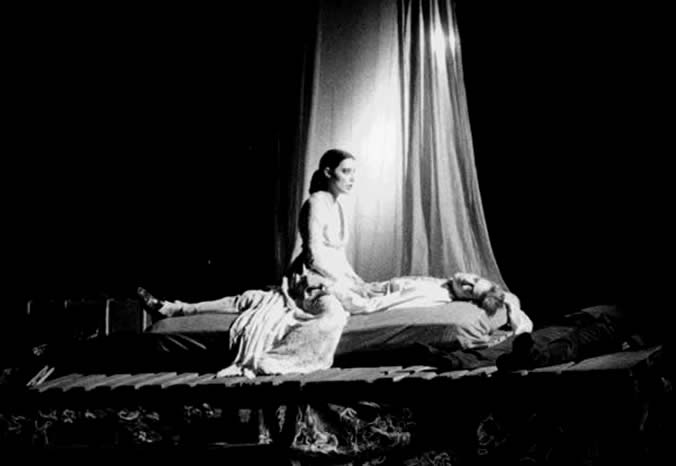 In 2000, Hakola completed his first novel – The Way of Blood – published in France by Le Serpent a plumes (2001) as La Route du sang to critical acclaim and soon followed by his second novel – Blood Streams – released by the same publisher in 2003 as La Valse des affluents and equally well received: "The author, mining for gold, has pulled it off, happily knitting together romantic, political, artistic and family plot lines while the diabolical rhythm of his carefully worked sentences thrill in a roman-fleuve featuring several scintillating loose canons." – Élisabeth Vust (24 Heures 4-4-2003). Hakola completed his "Blood Trilogy" with The Blood of Souls, published in France by Intervalles as Le Sang des âmes (2008). His fourth novel – Rakia – came out in French translation with Intervalles in 2011, while his fifth – The Snake Pit – was published in 2016 in French translation as Idaho Babylone by Actes Sud which released his sixth – Over The Volcano – as Sur le volcan in 2022. This novel was shortly followed by Hakola's first book of nonfiction – Non romanesque (2022, Les Fondeurs de Briques) – essentially an autobiography covering his life and work up to the turn of the century featuring a hundred black and white photos by the author and closing with three essays.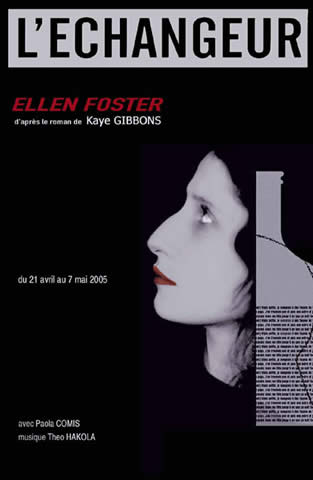 With "Une Dizaine de morts" – a musical reading for five voices based on the works of the Canadian author Michael Ondaatje and performed in Lyon, Manosque, Paris and Lille (2003-2004), Hakola put into practice a form mixing literature and song that he would continue to develop with "Les Chansons de La Valse des affluents" (2004-2005), "Le Chant des âmes" (2009), "La Ballade de Carson Clay" (2011), and "Idaho Babylone" (2017), all four adapted from his own books. He also collaborated with Paola Comis on "Ellen Foster" – a theatrical adaptation of the Kaye Gibbons novel (translation, music and co-direction by Hakola) staged in Dijon, Lille, Bagnolet and Lyon (2003-2005). In 2007, Hakola composed and performed the music for Racine's "La Thébaïde," directed by Sandrine Lanno in Montreuil and Colmar, and he continues to work as composer, musician and actor in French theater and film.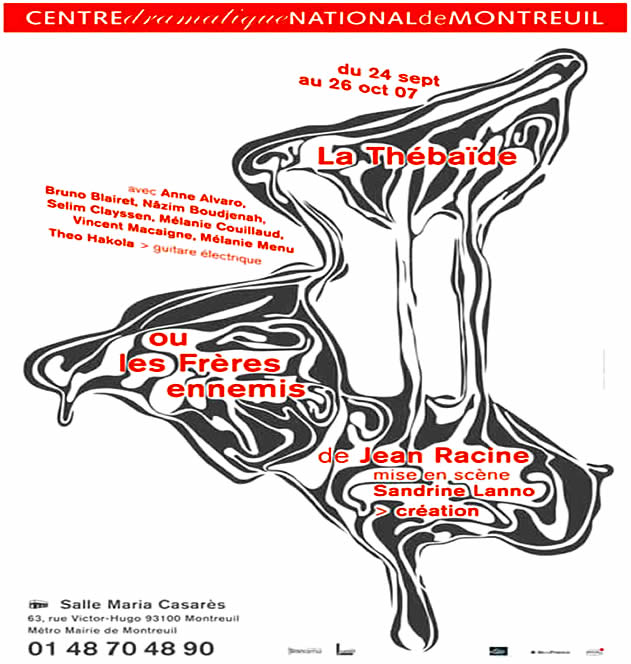 Recording albums, for Hakola, would seem to have taken a back seat to literature and theater as the new century progressed… until 2007 when he came out with Drunk Women and Sexual Water on his own Wobbly Ashes Records label where fourteen songs came together for 79 minutes of music and no filler graced by the presences of Bénédicte Villain, Brice Pirotais, Cyril Bilbeaud, Lionel Dollet, Alexandre Margraff and Warren Ellis.
In 2012, Theo Hakola was back with his sixth solo album – This Land Is Not Your Land – returning to what he claims is his greatest pleasure: making records. This time around, a title wink to Woody Guthrie is coupled with more than the usual concern for his mother country in an electoral year – cf. the album's title song and its "Wobbly Medley" premised on the belief that, while the President may well have reached out to and sought consensus with those who wanted nothing more than to bring him down, that didn't mean the rest of us had to. Indeed, This Land Is Not Your Land was more songs about love and hate (of a man, of a woman, of your country or his), more songs about baseball and a life-long need… to laugh. With feedback stampeding waltzing three-beats and soaring violins lashed to Hakola's signature slide guitar, it was, as always, music meant to ring out as eloquently decades from now as it does today with words Melody Maker called "a lyric of such intensity that it's almost real life," a knife to the listener's brain as well as the listener's heart, a blade forged by a full and varied existence happily honed with his scintillating concert band The Wobbly Ashes: Bénédicte Villain (violin), Matthieu Texier (guitar) Laureline Prod'homme (bass) and Tatiana Mladenovitch (drums).
This Land Is Not Your Land was followed in 2016 by I Fry Mine in Butter! – title by Kurt Vonnegut – a long time in the making double album of fifteen covers recorded with the Wobbly Ashes and featuring the voices of Gabriela Arnon and Madeleine Assas, as well as Maëva Le Berre (cello) and Pablo Gignoli (bandoneon).
In 2020, the sixteenth album of a 40 year span of music-making – Water Is Wet – was released. Another big fat blast of art. Another masterpiece… Who cares? We're all going to die!

Curriculum Vitae
NOVELS
Non romanesque (nonfiction – autobiography – essays) published in French in May 2022 by Les Fondeurs de briques
Over the Volcano, published in French translation as Sur le volcan in February 2022 by Actes Sud
The Snake Pit, published in French translation as Idaho Babylone in September 2016 by Actes Sud
Rakia, published in French translation by Intervalles (2011)
The Blood of Souls, published in French translation as Le Sang des âmes by Intervalles (2008)
Blood Streams, published in French translation as La Valse des Affluents by Le Serpent à Plumes (2003)
The Way of Blood, published in French translation as La Route du Sang by Le Serpent à Plumes (2001)
THEATER
Dracula, dans la veine de Bram Stoker, with Jacques Bonnaffé – musical reading/performance – composer/musician… Manosque, Paris – 2020
Idaho Babylone, musical reading (based on the novel), with Dominique Reymond), author/director/performer… Grenoble, Frontingnan – 2017
Rakia, musical reading (based on the novel), with Dominique Reymond), author/director/performer… Dijon – 2013
Sur la route, with Jacques Bonnaffé (musical reading/performance based on Kerouac's On The Road), composer/musician… Manosque, Toulouse, Grenoble, Caen, Paris, Vendôme… 2011-15
La Ballade de Carson Clay, or Stendhal goes to Idaho, (based on La Valse des affluents), author, director, performer… au Printemps du livre, Grenoble – avril 2011
L'Invention du monde (d'après Olivier Rolin), composer/musician/performer, MC93 Bobigny, May 2010. Directed by Michel Deutsch.
USA (d'après Dos Passos), composer/musician/performer, MC93 Bobigny – April 2010. Directed by Nicolas Bigards
Le Chant des âmes , (based on Le Sang des âmes), author, director, performer… The Finnish Institute in Paris – 2009
La Thébaïde (Racine) – composer/musician, performed at the Centre dramatique national de Montreuil and the Atelier du Rhin in Colmar – October/Novembre 2007. Directed by Sandrine Lanno.
Les Chansons de 'La Valse des affluents', (from the novel of the same name), author, director, performer… Manosque, Poitiers – 2004, and Lyon – 2005.
Une Dizaine de morts , (based on the works of Michael Ondaatje), adapter-author, director, performer… Lyon, Manosque – 2003, Paris – 2004
Ellen Foster, (Kaye Gibbons) – composer-musician and translator in Dijon (Festival Frictions) and Lille (l'Aéronef) – 2002 then, as co-director, Bagnolet (l'Échangeur) and Lyon (Théâtre de la Rennaissance) – 2005. With Paola Comis.
La chanson du Zorro andalou – author, actor, director, 1999-2000 , Rennes, Lille, Paris…
Mahagonny, (Brecht/Weill) Paris and on tour in France… Directed by Hans-Peter Cloos. Played "Alaskawolf Joe" – 1983
MUSIC
Theo Hakola:
WATER IS WET – (WAR/Microcultures/Médiapop) – 2020
I FRY MINE IN BUTTER! – (Wobbly Ashes Records/Mediaopop) 2017
THIS LAND IS NOT YOUR LAND – (Wobbly Ashes Records/MVS) 2012
DRUNK WOMEN AND SEXUAL WATER – (Wobbly Ashes Records/Anticraft) 2007
LA CHANSON DU ZORRO ANDALOU – (Grosse Rose/Kerig) 2000
OVERFLOW – (Grosse Rose/Musidisc) 1997
THE CONFESSION – (Absinthe/Bondage-France) 1995
HUNGER OF A THIN MAN – (Bondage-France) 1994
with The Flying Fucks
BYE BYE – (Emotion Records) – 2022
with Passion Fodder (Barclay/Polygram-France):
WHAT FRESH HELL IS THIS? – 1991
WOKE UP THIS MORNING – 1989
LOVE, WALTZES AND ANARCHY – 1987
FAT TUESDAY – 1986
HARD WORDS FROM A SOFT MOUTH – 1985
with Orchestre Rouge (RCA-France) :
MORE PASSION FODDER – 1983
YELLOW LAUGHTER – 1982
PRODUCTION
Noir Désir – Où veux-tu que je r'garde ? (Barclay/Polygram-France) –1987
E.V. – Reuz (Lola Label/Polygram France) – 1994
Les Hurleurs – Bazar (Barclay/Universal) – 1996
Les Malpolis – La Fin du retour de la chanson (Willing/Mosaic Music) – 2005
Gecko Palace – Tout va si bien (New Track/Anticraft) – 2008
FILM MUSIC
Le Héros du nouveau monde, directed Beajena Horakova – 1988
Peaux de vaches, dir. Patricia Mazuy – 1989
Perpetua, dir. Claudia Neubern – 1999
La fille préférée, dir. Lou Jeunet – 1999
Les Petites Mains, dir. Lou Jeunet – 2001
La Vallée des larmes, dir. Agathe Dronne – 2011
RADIO/JOURNALISM
D.J./producer on France-Inter, Radio Monte Carlo – (RMC Côte d'Azur), France Culture, Radio Nova and Radio Cité 96.
Publication of articles on European culture and politics in In These Times and in Cinéaste (U.S.A.) and in Libération, Actuel, Globe, Les Inrockuptibles… (France).
STUDIES
London School of Economics and Political Science, 1975/76
B.A. in Political History, Antioch University, Yellow Springs, Ohio – 1977
OTHER WORK
Film actor: La Bête, Bertrand Bonnello (2023), Truth or Consequences, Philippe Prouff (2024); Alien Crystal Palace, Arielle Dombasle (2018); Jewell Stone, Sandrine Dumas (2018); Curiosa, Lou Jeunet (2018); Pictures, Florent Quint (2011); Suerte, Jacques Séchaud (2010); The Portuguese Man O' War, Lauren Makael (2008); Une Famille parfaite, Pierre Trividic (2006); Ma Mère, Christophe Honoré (2004); La Fille préférée, Lou Jeunet (1999)…
Director: "Reliefs" fiction workshop – Saint-Priest (Lyon), 2005
Director: "La parole et les cris" lyrics workshop – Nevers , 1998-1999
Translator: Composition and Non-composition by Jacques Lucan (PPUR-2012) as well as two other books on architecture, numerous film scripts, plays, poems, songs and articles…
Organizational Secretary: US Committee for a Democratic Spain, New York – 1977
Instructor: "The Spanish Civil War", Antioch University, Ohio – 1974
Instructor: "Light Recording" (assistant to Tony Conrad), Antioch College, Ohio – 1974
Sound, lights, programming – Tramps Club, New York – 1977/78
English teacher, photographer, rewriter, waiter…